Come Explore The Heart Of Vacationland...
Welcome to Hesperia Michigan
The picturesque community of Hesperia is situated on the border of Oceana and Newaygo Counties, along the beautiful White River, where you will find some of the best salmon and rainbow trout fishing in Michigan. Enjoy a stroll down our main street, stop in and visit the local shops, walk along the riverside boardwalk and watch the fish jump next to the dam, take a swim in the Millpond, or enjoy a quiet walk out on the islands. The more adventurous can take a canoe or kayak trip down the river, camp and fish along the river's edge, put in your own boat or hire a river guide. Hunting can be found almost year round and winter sports abound as well, with snowmobiling and ice fishing on one of the many lakes in the area.
Come and visit us soon! Camp, swim, kayak, hunt, fish, shop, play, and relax!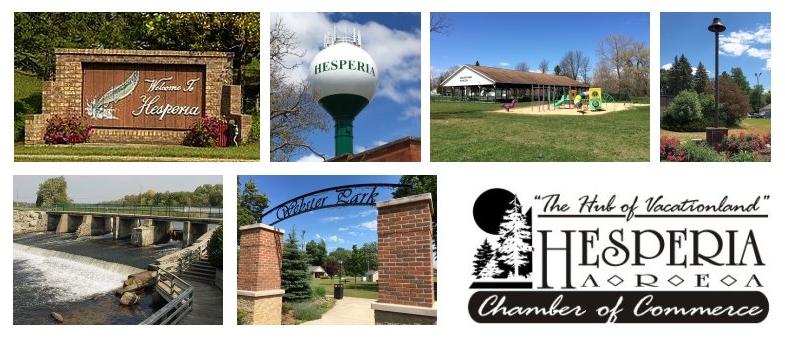 There are two local stories of how Hesperia received its name. The first was that it was an Indian name for "beautiful gardens", since the area was once home Indian tribes in the area. The second was that it was named from Hesperides in Greek Mythology, meaning "blissful garden", located in the western part of Greece. Either way, We are definitely in West Michigan and it may be more beautiful here. In 1856 Booth Perry settled in the area, followed shortly thereafter by Pat McFarland and Alex McLaren (McLaren lake is named after him). The village of Hesperia was platted in 1866 by Daniel Weaver and John Cook, who built a sawmill and general store. The town officially became a village in 1883.
The Hesperia Area Chamber of Commerce sponsors the 4th of July Hesperia Family FunFest on Independence Day, with live bands & street dancing, parade, tractor & horse pulls, canoe race, beer tent, fireworks, and more.